James Chaousis for Trinity- in-You interviews Dr Geordie Ziegler, Pastor, Theologian and author of a newly released book from Fortress Press – Trinitarian Grace & Participation: An entry into the theology of TF Torrance.
Last year It came to our attention that Dr. Geordie Ziegler, an American Presbyterian minister serving as Pastor of Adult Discipleship and Formation at Columbia Presbyterian Church in Vancouver, Washington, USA has written a significant book.  The book Trinitarian Grace and Participation: An entry into the theology of TF Torrance, is published by Fortress Press and will be available from February 1st , 2017.
This publication is based upon his doctoral dissertation which he completed at the University of Aberdeen in Scotland under the supervision of the late Professor John Webster.
We would like to introduce Dr Ziegler and his forthcoming publication to an Australian audience / readership, and inclusively of course to our global audience of supporters and viewers of this website.                                 
James Chaousis: It's my pleasure to welcome Dr Geordie Ziegler to Trinity-in-You.
Dr Geordie Ziegler (Geordie): The pleasure is mine.
James: Please share with us something of your background and your current ministry at Columbia Presbyterian Church in Vancouver, Washington, USA.
Geordie: My Christian journey has been quite eclectic.  I grew up in a Presbyterian Church in the San Francisco Bay Area, but I've had the opportunity to study in a variety of countries, beginning with a term during college in which I attended Torchbearer Bible Schools in both Sweden and Austria.  After teaching English in China for two years, my wife and I moved to Vancouver, Canada where we attended Regent College.  Most recently, we spent six wonderful years in Scotland, so that I could pursue a PhD in theology at the University of Aberdeen.  In between all these study ventures I've served as a pastor in various Presbyterian churches – four years, nine years, and about three and a half years so far at Columbia Presbyterian Church in Vancouver, Washington (which is just outside of Portland, Oregon).
At Columbia I serve as Pastor for Adult Formation and Discipleship.  For me, it is an exciting place to be because we are working very hard to flesh out in our life together a vision for the church that functions as an intergenerational family of missional disciples.  We want to learn from Jesus how to live by listening to him and doing what he says; we want to see ourselves as sent by the same Spirit that sent and empowered him; and we want to do that together in the midst of all our diversity and differentness rather than as isolated individualistic Jesus Green Berets.
James: Geordie, thank you for that profile. What was influential in your decision to re-locate to Aberdeen, Scotland for some half-dozen years for post-graduate studies, leading to the completion of a doctor of philosophy program?
Geordie: That's actually a pretty special story to me.  The origins go back to my time at Regent (94-98).  My major mentors there were Eugene Peterson and Jim Houston, and I took every spiritual formation course I could from them.  Regent is a special place for a variety of reasons, but one of the things that I think makes it particularly unique is that there is a pervasive concern to think through every subject matter from a Trinitarian perspective.  This was the case whether the subject at hand was prayer and worship, the arts, creation care, or "secular" work.  My theological professors were Stanley Grenz and J.I. Packer, and I owe them much, but in the summer before my third year I had the opportunity to serve as a teaching assistant for Alan Torrance, a visiting lecturer from St. Andrews Scotland, and from that point on everything changed.  Sitting in class and listening to Alan teach with such joy and passion and clarity, and then reading his uncle Tom's book, The Mediation of Christ changed my life. I don't know how to describe it other than to say it was like a conversion experience.
That was 1996.  Since that time, for more than twenty years, I have been on a joyful quest.  After earning my M.Div. and getting ordained in the Presbyterian Church I kept looking for ways to grow in my experience and understanding of the Trinity.  After a couple of years I joined a group of pastors reading Eastern Orthodox theologians and learning about spiritual formation practices within that stream of the Body of Christ.  Yet all along the way I felt like I was just skimming the surface of the issues.  Eventually, I started to look for formalized educational opportunities that might be helpful.  As a pastor, with no intent of leaving pastoral ministry, I naturally looked at D.Min. programs but was advised by the director of one of the programs that my interests were too specific for a D.Min. and that I should consider a PhD.  To be honest, a PhD had never crossed my mind at that time.  But three years seemed like a necessary and reasonable season to achieve the focus I was looking for, so I started looking at various options.  In February 2007, my wife and I took a reconnaissance trip out to Scotland since that was clearly the best place for me to study the thought of a pastor and theologian who himself was from Scotland.  We came home loving Scotland, but not clear on whether a move there for me to pursue this crazy dream was what we were supposed to do.  I remember being quite anxious that we didn't have any certainty at that time.
About a month later our church hosted a guest preacher, Dr. Andrew Purves, who had come at my invitation to lead a pastors preaching workshop for our presbytery.  Andrew is one of the premier Torrance scholars in the United States and I wa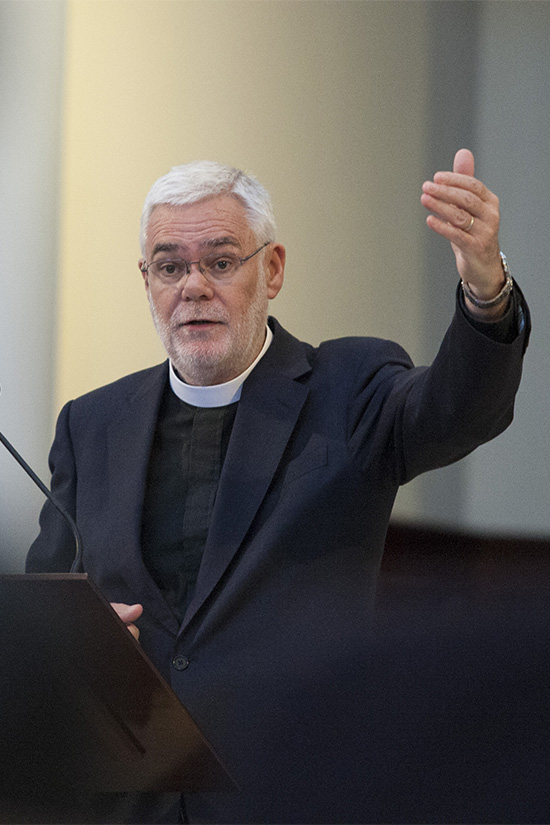 s greatly looking forward to picking his brain about the idea of a
PhD and Torrance scholarship.  Andrew was (and continues to be) extremely
encouraging and gracious with his time, but the God moment happened on Sunday morning as he was preaching.  The time was approximately 9:48am and he had just finished his sermon on Phil 3:12-14 about how Christ has grabbed hold of us and will never let us go, and as Andrew finished his prayer and went to sit down something happened that never had happened before nor has ever happened since – the traditional congregation clapped.  They clapped.  And here's the thing.  They weren't clapping for Andrew or for what a great sermon he gave.  They were cheering God, cheering the good news of the gospel that they had just heard and they were compelled to respond to with something like…gratitude and joy.  It was in that moment that I received my call to go to Scotland.  I felt God clearly saying to me, "Geordie, you need to go to Scotland to study Torrance so that you can come back to the Church and communicate this incredible gospel as clearly as Andrew just did."  From that point on, I had no doubts.